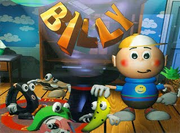 Drilling Billy (also known as Billy, The Worlds of Billy, or Antoshka) is a 1997 platformer developed by Northwind Soft for DOS/OS2 and published by Northwind Soft, Magic Bytes, and Intense Entertainment Interactive, LLC. Gameplay revolves around digging holes, luring enemy monsters into them, and refilling the holes, causing the monsters to fall. It is similar to the classic Lode Runner. A sequel was made in 2002 for Windows.
The aim of the game is to guide Billy through the level, knocking the monsters through the holes you dig. When a monster is trapped in a hole, Billy can then close it, causing the monster to fall down and disappear. Some monsters are more tough than others and need to fall several floors before the disappear. If Billy is not fast enough, the trapped monster will dig itself out of the hole and become annoyed.
A non violent gameplay (age 5+)
More than 100 levels in 5 different worlds
High resolution graphics (800x600), for maximum graphic detail
3D animated characters and powerups
High quality sound effects and Red Book music (CDDA)
Critical Reception
Edit
Overall reception of Drilling Billy was mixed to unfavorable.
German PC Games Magazine ranked it at 30/100. The following is a translation of their verdict:
"Billy is addressed exclusively to inexperienced children to whom the representation of unnecessary violence should be spared. The game idea is much too simple to keep this target group interested in the long term. The 100 levels in five different worlds go by too quickly, so that the price-performance ratio is adequate at best."

—Harold Wagner, PC Games, December 1997
Piet N. Kargaard - game design, graphics
Troels Nordfalk - programming
Bo Nørgaard - intro rendering, 3D characters
Sune M. Pedersen - level music, main theme
David Filskov - sfx, voices, music: intro/winner
Erik S. Andersen - autorun menu, '97 webpage
Jacob Nordfalk - add. programm., Esperanto
Morten Bjergmose - add. programm., testing
Jacob Borella - testing
Lena Bundy - main theme vocals (English)
External Links
Edit